Plat of Survey/ Boundary Survey
Plat of Survey/ Boundary Survey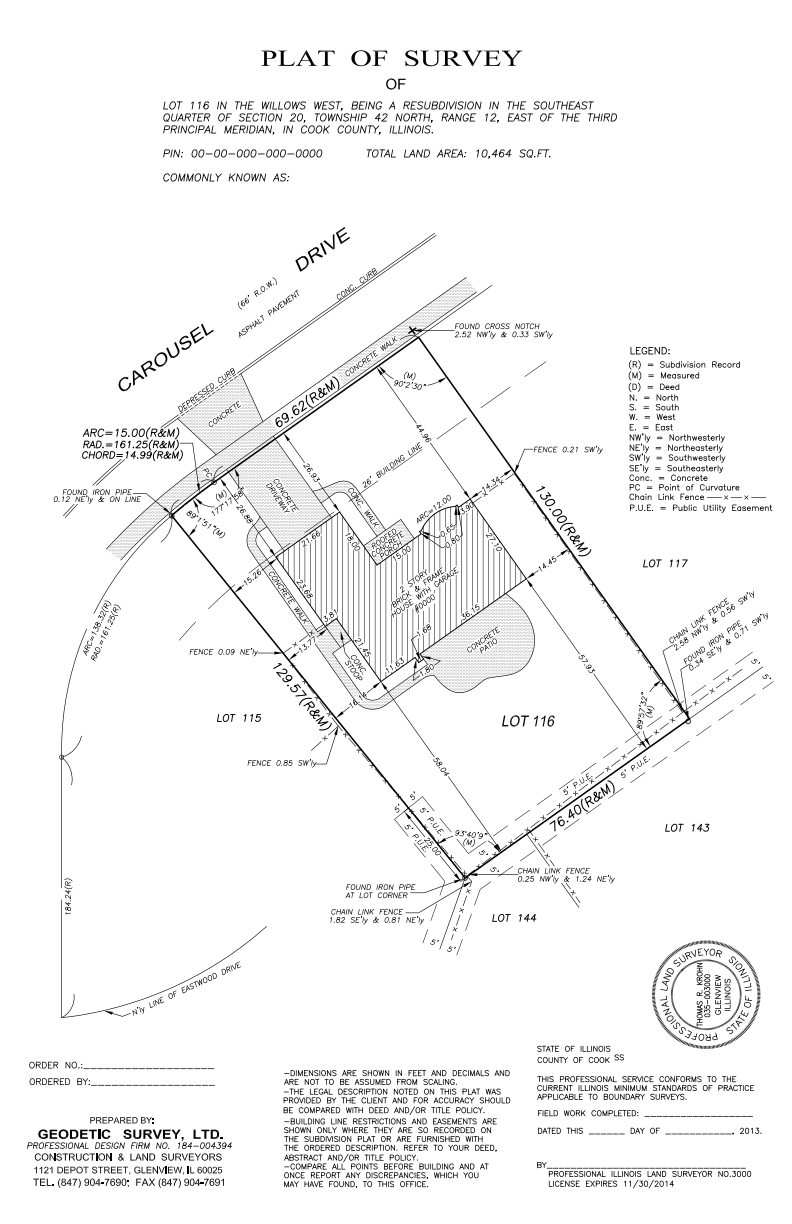 What is a Plat of Survey / Boundary Survey?
A survey performed to define and mark the boundaries of an existing parcel of land. This survey is also known as a boundary survey or plat of survey. The surveyor will locate and measure evidence in the field such as existing property corner monuments (iron pipes, rods, etc.), subdivision corners, section corners, fence lines and lines of occupation. This information will then be analyzed and compared with the recorded deed for the subject parcel to determine the property boundary. Iron rods are set at property corners where missing. A survey map is then prepared showing the boundary location, monuments set, encroachments, legal description and certification by the land surveyor. The survey must conform to standards set forth in Section 1270.56  Illinois Joint Committee on Administrative Rules "Minimum Standards of Practice" unless waived by the client. Optional information may include easements as disclosed in a title commitment or improvements such as buildings, driveways or utilities.
Section 1270.56  Minimum Standards of Practice
A boundary survey is a land survey that requires study, investigation and evaluation of major factors affecting and influencing the location of boundary lines and that culminates in the deliberate location or relocation of the perimeters, division lines or boundaries of a certain lot, parcel or quantity of real estate, according to the record title description of the parcel or parent tract. This description should be furnished by the client, unless otherwise jointly agreed upon by the client and surveyor.
The purpose of a boundary survey is to establish or re-establish the extent of title lines, and to define and identify those lines so as to uniquely locate each lot, parcel or other specific land area in relation to well recognized and established points of reference, adjoining properties, and rights of way.
A boundary survey shall include, but not be limited to, the following:
Clear and legible field notes containing all pertinent information, measurements and observations made in the course of the field survey.
Unless requested otherwise by the client or his/her agent, a plat of survey.
A legal description for any parcel surveyed.
Unless requested otherwise by the client or his/her agent, monuments or witness points shall be set for all accessible corners of the survey.
Information Research Required. Sufficient information to perform the survey shall be either furnished by the client and/or his/her agent or obtained by the surveyor by agreement with the client. The following appropriate factors must be evaluated by the surveyor:
A property description describing the subject parcel. If, in the opinion of the surveyor, the description furnished or obtained is insufficient to fully define the extent or location of the parcel to be surveyed due to ambiguity or calls for adjoining deeds, prior recorded survey plats, etc., it is the duty of the client (unless agreed upon otherwise) to furnish the additional information requested by the surveyor. This is not to be construed to indicate that the surveyor has an obligation to research the title of record.
A reproduction of the recorded subdivision plat that created the subject lot, block or parcel.
A reproduction of the Government Township Plat and pertinent Monument Records if the survey is of a section or aliquot part of a section.
Relevant data provided by the client regarding special circumstances, such as unrecorded easements, judgements or Court decrees that may influence the location of boundaries of the survey.
Monuments. Monuments set or called for, whether artificial or natural, bear witness to the footsteps of a surveyor and his/her professional opinion as to the proper marking of a desired position. Monumentation for public land survey systems corners shall be in accordance with the Land Survey Monuments Act. The following shall be considered acceptable types of artificial monuments for all other corners:
i) Iron bars or rods shall be a minimum of ½" in diameter by 24″ in length. Iron pipes shall be a minimum of ½" in diameter by 24″ in length, with a minimum wall thickness of ⅛". Where rocky soils prevent specified lengths, the bar, rod or pipe should be driven to refusal at depths where it will remain stable. ii) Concrete monuments shall be a minimum size of 5″ in diameter by 24″ in length, or 4″ square by 24″ in length, and shall have a precise corner mark and shall be reinforced by at least a ¼" re-bar or ½" or larger iron pipe. iii) Stone monuments shall be a minimum size of 4″ square by 24″ in length and shall have a precise corner mark. iv) Commercial cast iron or aluminum survey markers no less than 24″ in length. Non-ferrous markers shall have ceramic magnets attached to aid in recovery. v) Other monuments, such as drill holes, chiseled marks in stone, concrete or steel, punch marks, precast bronze discs, nails or spikes, etc., shall be of sufficient size, diameter or depth to be definitive, stable and readily identified as a survey marker. Objects upon which the marks or markers are placed shall be of a stable and permanent nature.
B) Requirements. i) Where placement of corner monuments is a condition of the survey and it is physically impossible or impractical to set a monument at the corner, a witness corner or corners will be set, or noted if existing witness corners are found. Witness corners shall be referenced to the survey corner or survey lines. ii) Monuments must be set to a sufficient depth so as to retain a stable and distinctive location. Material and size for monuments shall be chosen in regard to the terrain and situation that exists at the site of the survey. All monuments shall be set vertically whenever possible.
Plats. On all boundary surveys the completed plat shall be drawn on a stable and durable medium with a minimum size of 8½" by 11″ and shall contain the following:
A) Firm name, address and registration number.
B) Professional land surveyor seal, signature, date of signing, and license expiration date. Rubber-stamp signatures, computer generated signatures or other reproduced signatures are prohibited.
C) Client's name.
D) North arrow.
E) Scale-written or graphic.
F) Date of completion of field work.
G) Legal description of the property.
H) Legend for all symbols and abbreviations used on the plat.
I) Monuments or witness corners, whether set or found, intended to represent or reference corners of the survey, shall be shown and described as to size, shape and material, and their positions noted in relation to the survey corners.
J) Sufficient angles, bearings or azimuths, linear dimensions and curve data must be shown on the plat to provide a mathematically closed figure for the exterior of the survey. Where record angular dimensions, bearings or azimuths, linear dimensions or curve data exist, such data shall be shown on the plat and distinguished from measured dimensions or data. Area of the survey is to be shown on the face of the plat unless otherwise requested by the client.
K) Where bearing, azimuth or coordinate systems are used, the basis or proper names of the system shall be noted on the plat.
L) If the survey is a parcel in a recorded subdivision, any adjacent rights of way or easements and setback lines shown on the recorded plat that affect the subject parcel are to be shown and dimensioned.
M) Visible physical evidence of possession or occupation either way from the exterior lines of the survey shall be shown and dimensioned.
N) Show visible evidence of improvements, rights of way, easements, or use when requested by the client.
O) Exculpatory statements that attempt to restrict the uses of boundary surveys shall not be affixed to any plat.
P) The following statement shall be placed near the professional land surveyor seal and signature: "This professional service conforms to the current Illinois minimum standards for a boundary survey."
Field Procedures. All field work shall be performed by a professional land surveyor or a person under his/her direct control and supervision in accordance with accepted methods of surveying theory, practice and procedures. It is the responsibility of the professional land surveyor to insure conformance with the following specific requirements:
A) All surveying instruments shall be kept in proper adjustment and calibration.
All corners or monuments called for in the information provided or obtained under subsection (b)(4) that affect the location of the boundaries of the land to be surveyed shall be physically searched for in a methodical and meticulous fashion. Each corner or monument recovered shall be evaluated as to its agreement by description and location with the information in subsection (b)(4).
Other evidence that could influence the location of the lines or corners of the survey shall be located and evaluated.
When the survey is of an aliquot or divisional part of a larger tract, sufficient field work must be performed to ensure that the existence of excess or deficiency, if any, in the parent tract can be determined and distributed by the professional judgment of the surveyor.
All field data, including electronic field notes, shall be retained in a legible and orderly fashion that will be understandable to other surveyors.
It shall be the responsibility of each professional land surveyor to monitor his/her work and that of those working under his/her supervision, so that the methods used to perform the survey and produce the plat and/or report will be of such quality that the accuracy, precision and positional tolerance of the final product delivered to his/her client will equal or exceed that which would be provided by another competent surveyor under similar circumstances.
Source: Joint Committee on Administrative Rules – Section 1270.56  Minimum Standards of Practice